Macrosoftnet Mail – Introduction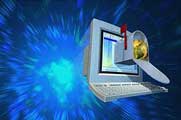 Introduction
You know as an email power user, the need to send digital attachments of larger size.
So far this convenience is not fulfilled by most of the email service providers including your ISP (Internet Service Providers) by limiting the  size of your attachments, emails and mailboxes.
Even worse, if you choose to go with a different ISP for a better deal, then you loose those email addresses that came with the previous ISP and thereby losing your valuable contacts along with painful task of sending notifications to all your friends, relatives, business associates and clients, etc. that your email addresses has been changed for the hundredth time!
MacroSoftNet is proud to break all this barriers for the first time by providing you a Premium Webmail Service with more benefits like Larger Mailbox (200MB, 100MB and 50MB), POP3 access and Forwarding, Unlimited Attachments & Message Size, etc. at a Lowest and Affordable Monthly Price.
So its time to shake off from your ISP or email service provider who made you a crippled Lilliputian and to stand up as a Goliath among others.