Macrosoftnet Mail – Frequently Asked Questions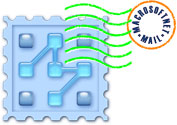 Frequently Asked Questions
If you're stumped and need a little help you're on the right place.
You'll probably be able to find the solutions to your queries regarding MacroSoftNet Mail Service here or report the query directly to our customer support service to find a solution for you.
You can also find valuable tips and tricks from our professional customer support service on Efficient Mail Management Techniques, Various Options for better User Experience and Efficiency of MacroSoftNet Mail Service, etc.
To enable you to have quicker access to solutions for your queries, we have divided this page into separate sections which include detailed questions and answers.
Questions and Answers
What is POP3 access?
POP3 is the latest Post Office Protocol 3, this is a service that stores and serves emails for various email client machines that are not connected to the Internet 24 hours a day.With POP3 Access, when you are online, you can download your Macrosoftnet Mail messages using your desktop email program, such as EudoraTM, Microsoft OutlookTM, NetscapeTMMail, etc. After downloading, you can read your emails offline within your POP3 email applications.Macrosoftnet Mail provides you POP3 access for no additional cost (as most of the email service provider charge a seperate fee for the POP3 access) with your Macrosoftnet Mail subscription.
What is SMTP?
Simple Mail Transfer Protocol (SMTP), documented in RFC 821, is a protocol for sending email messages between servers.The messages can then be retrieved by an email client using either Post Office Protocol (POP) or Internet Message Access Protocol (IMAP).You must specify both the POP or IMAP server and the SMTP server when you configure your email applications such as Eudora ProTM / Eudora LiteTM, Microsoft OutlookTM / Microsoft Outlook ExpressTM, or NetscapeTMMail.
Why do I pay for Macrosoftnet Mail services?
Free Email Services gives you only small mailbox space (may be 5MB to 6MB) and they do not include POP3 access (some time POP3 access is available with additional fee) to download your email messages to your POP3 email client.Free webmail services impose limits on the emails and attachments that you send and receive.Macrosoftnet presents Premium Web Mail Service with POP3 access (no additional fee for POP3 access), with Macro web mail storage space of 200MB, 100MB or 50MB, unlimited attachments and more features.
How reliable are Macrosoftnet servers?
Macrosoftnet's Mail servers are state of the art servers built on latest technology and they are 24/7 operational, so that you can check your emails any time, anywhere in the world.For some reason if you could not reach our Macrosoftnet Mail server, then there could be network issue that is pertaining to your ISP's network backbone. In that case, please try again later.
Why Macrosoftnet Mail service is slow sometimes?
Macrosoftnet only allow upto 384kbps upload or download stream to all the webmail or pop3 users in order for us to accomodate all of our users in our available network bandwidth. During peak hours, it could be less than 384kbps due to more network traffic.Also the distance play vital role no matter whether you are on DSL/Cable or any other faster internet connections. Longer the distance between your location and the mail server location the slower the downloads of your emails from Macrosoftnet's POP3 mail server to your POP3 client.If you experience slow downloads sometimes using your POP3 client, it is an indication that it is peak hour and network is clogged, we suggest login to webmail at http://www.macrosoftnet.com/webmail at that time to send/receive your email.
How do I sign up for Macrosoftnet Mail?
To signup for Macrosoftnet Mail service, Click here which will take you to three steps of easy and simple registration process.Note: PLEASE DO NOT CLICK BACK or FORWARD BUTTON in your Browser between Step1 and Step3 during WebMail Signup.This will cause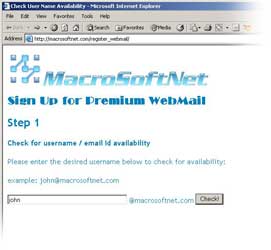 Step 1Enter your email address / user name that you would like to use and click on Check!button.Our mail server will check and verify your desired email address / user name is available for registration.If the email address / user name is already in use by another user of our service then it will prompt you to enter a different email address / user name. If so try with different choice of yours.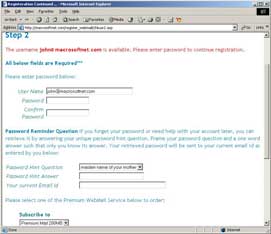 Step 2Enter all required information like your desired password.For the Forgot Password feature of the MacroSoftNet Mail service, we like you to select a hint question from the list provided and enter an appropriate answer for the question by you. Please do remember the question and answer you typed in. This will be required in case you forgot the password while using the service in the near future.Please do provide us an alternative email address* which will be used by us to mail the password details in case you forgot the password of your mail account.Select the service package you want to subscribe and press Continue Register >> button. After that you will be forwared to PayPalTMwebsite for payment details.Step 3In the PayPalTM website, enter all the relevant details applicable to you. Upon sucessful payment, you will be able to login to the Macrosoftnet's Premium Web Mail service with your username and password.

*Please enter your valid current / present email address which is very important for you to get web mail registration confirmation email, customer support and to retrieve your Macrosoftnet webmail password, incase if you forget it from forgot password feature of the service.

**Caution: In the middle of webmail signup process, especially after step2 (after re-direction to paypal site for payment), if you used your back button of your browser to go back to Step2, all your session information such as your chosen Macrosoftnet email address or userid that you are signing up and all the information that you have entered in Step2 will be lost. And Your signup / registration transaction will be marked invalid and void. Also the userid you have chosen to register will be locked and the same userid / email address will not be available for signup again for 24 to 48 hours.
What do I do if I forget my password?
Just in case if you forgot your Macrosoftnet's webmail password, no worry, we can get your password and email your retreived password from our records to your alternate email address which you presented to us as your current email address at the time of the Macrosoftnet's webmail registration.Please go to http://mail.macrosoftnet.com or click on the Forgot Password?link in Macrosoftnet's webmail login page.
How do I configure & download emails to my MS OutlookTM / Outlook ExpressTM
Open Microsoft Outlook Express.From the Tools menu select Account.Select the Email Tab.Click the Add button and choose Email.The internet connection wizard appears. Fill in the display name field with the name you want to appear in your email messages.Click on Next and you should see a screen requiring your email address, provide your Macrosoftnet email address here. Example john@macrosoftnet.comReplace the screen name with your macrosoftnet username.Fill in your POP3 server as macrosoftnet.com and SMTP server as macrosoftnet.comSpecify your screen name and password so that outlook can get your email. Click remember password so that outlook does not ask you for it every time.Click Finish to close the wizard.Click the OK button, close all open dialog boxes and save the settings.
How do I configure and download emails to my Eudora ProTM / Eudora LiteTM
Open EudoraPro.From the Tools menu, choose Options.In the POP Account text box, type your email address.In the real name text box, type in your name.In the return Address text box, type your email address.In the SMTP server box type macrosoftnet.comPOP3 server settings box type macrosoftnet.comClick Ok.Please refer to Eudora documentation for any other information.
How do I configure and download emails to my Netscape MessengerTM
Open Netscape Messenger.From the Menu, select Edit, then Preferences.Select Identity under the email and Newsgroups section.In the Outgoing Email(SMTP) server text box enter macrosoftnet.comIn the Incoming Email(POP3) server box enter macrosoftnet.comIn the POP3 Username text box, enter your username.Click Ok.From the Menu bar, select Window and then Netscape Messenger.Enter your password and click Ok.Select File.Select Get New Messages
How do I configure and download emails to my Pegasus EmailTM
Open Pegasus emailclient software.Select Tools menu then Options.Under Categories, select Network Configuration.Under Properties(for receiving mail) enter macrosoftnet.comYour username is the log-in for your macrosoftnet account.Your password is the password for your macrosoftnet account.Under properties(for sending mail) enter macrosoftnet.comSelect Advanced Configuration Options if you would like to leave the messages on the Web email Server(optional)Select OK to save the changes and to use Pegasus email client software.
How do I configure and download emails to my IncredimailTM
Open Incredimailclient software.Open Incredimail.Click the Tools menu. Select Accounts.Click Add. Choose let me configure settings myself.Click Next, Enter your name. Enter your your_userid@macrosoftnet.com email address and Click Next.Confirm the Incoming mail server is set to POP3.Set Incoming mail server to macrosoftnet.comSet Outgoing mail server to macrosoftnet.com (or your ISP's mail server name or IP address)Click NextThe Account name field displays the Email username (characters before @macrosoftnet.com)Enter the password in the Password field (displays as *********)Click Finish, Click OK, and You are returned to the Internet Accounts dialogue box.Click Close to return to Incredimail.
I received payment error email from customer service, what do I do?
Macrosoftnet Mail subscription payments are handled by PayPal. If you've provided incorrect payment information at the time of registration at PayPal pages, your payment will not go through.In that case, Macrosoftnet Customer Service will send you email notification about your payment errors to your alternative email address, which you provided to us by you at the signup.You've 24 hours to respond to that email, to correct the payment details by login to PayPal website, with your PayPal login, which you'd created at the time of registration. If you fail to do so, your Macrosoftnet Mail account will be disabled after 24 hours from the email notice. Your account will remain disabled for 7 days (grace period) after that your mailboxes will be permanently deleted, if payment is not received from you within those 7 days. Macrosoftnet will not be responsible for the loss of your mails in the mailbox after this grace period. Please read terms of service and agreement for more detail.
How do I cancel my Macrosoftnet Mail subscription?
You can cancel your Macrosoftnet Mail subscription at anytime by sending an email to our customer support service, with "Cancellation" (without quotes) as subject of that email along with the following information in body of the email.1. Your Macrosoftnet Mail Email Address / Username.2. Your Password hint question and it's answer (this we require to confirm that it is you, the user cancelling the subscription not anybody in place of yourself. If you do not remember your password hint question, Click here. enter your username in Step 1. In Step 2, your password hint question that you entered at the time of signup will be there. Hope you remember your answer to the password hint question) If we did not receive the correct password hint question and it's answer in your cancellation email, we will not cancel your subscription as a safety precaution.3. Your alternate email address that you given to us at the time of registeration.(this is the email address that we will use to send cancellation confirmation)Please allow 24 to 48 business hours to cancel your subscription. Upon cancellation, we will send you a cancellation confirmation email to your alternate email address.Please read and understand the Cancellation policy below before you cancel your subscription.Cancellation policy:You can cancel anytime your 200MB, 100MB subscription with the Macrosoftnet Mail Service expect for 50MB which you signed up for three months subscription, which you can cancel only at the end of the third month only.All the three kinds (200MB, 100MB, & 50MB) of subscriptions will be renewed automatically until if you chose to cancel.If you cancel your subscription in the middle of the billing cycle, your subscription payment for that billing cycle month will not be refunded.

If you cancel your 50MB subscription in the middle of the minimal subscription period of three month, then you will not refunded any part of the subscription amount for this minimal three months.